Remember that famous Beach Boys track "Kokomo" from the soundtrack of "Cocktail"? Aruba, Jamaica, ooh I want to take ya…..
As teenagers many of us probably grooved to this track and ever since I heard it for the first time as a kid in Bombay, I'd always been dogged by the question, where on earth is Aruba?? That question was answered in March of 2013 when I finally made a trip to Aruba; at last I knew what the Beach Boys were talking about!
Aruba is one of the four countries that form the Kingdom of Netherlands, understandably its citizens are considered to be of Dutch nationality. Its capital is Oranjestad, which is also home to the Queen Beatrix international airport. I won't bore you with info that you can get on Wikipedia, instead I'll try and give you a more anecdotal account of my experience.
The airport, as one would expect in small islands such as this, is very plain and simple. There's quite a few cats and birds that you will be competing with in case you decide to get a bite to eat or a cup of coffee to sip on while you wait to board your flight, but hey, that's what island living is all about! Once you leave the airport, its not all palm trees and beaches, instead you're greeted with an atypically arid & desert-like surrounding. I'll be honest, I was a little weary of what lay ahead, but thankfully my concerns were quickly assuaged as we drove away from the airport and towards our resort. We stayed at the Marriott Resort & Stellaris Casino which is a gorgeous resort with all the amenities one could ask for. Of course, depending on your budget and threshold of pain & adventure, you can always choose a hostel or a local accommodation that can give you a better sense of being local.
The popular beaches are located mostly towards the northwest and as you move east, the landscape gets more precipitous with a very interesting & diverse topography. I'm not much of a beach bum, so I really enjoyed exploring the eastern parts of the island and hiking there while discovering some very interesting rock formations. The most popular attractions here are The Natural Bridge, Bushiribana Ruins, Ayo Rock Formation & Alto Vista Chapel. One activity which I didn't indulge in, but I'd recommend is the ATV tour, it seemed like a blast!
The cuisine in Aruba is very representative of the island's resident demographic. You can find everything from jerk chicken to sushi and even some excellent Indian food. One place in particular, that turned out to be a hidden gem is a place called, "Zeerover". With a catchy name and a pirate flag that greets you at the entrance, this place feels very unusual and local, very much like the food you'll find here. Although they have some items scribbled on a white board, their menu is by and large driven by what the local fishermen catch on the day; seafood doesn't get fresher than this. You will literally see fishermen bringing their catch of the day into this restaurant and it will subsequently end up on your plate. Grab some seating on the far end of the pier with some fried fish, shrimp and Presidente (the local beer) and you'll be treated to some amazing views at dusk! Fried food, beer & sunset, does it get better than this?
One of the more exciting discoveries I made in Aruba, thanks to Zeerover was a local condiment called, "Hot Delight", which is a papaya based hot sauce. This is an extremely spicy condiment, so use judiciously. But what's great about it is that it works as an excellent marinade and meat tenderiser, so make sure to pick up a bottle while you're here! If you feel like having a more romantic dinner that leans towards fine dining, I'd recommend Papiamento. With a beautiful, lush garden that surrounds the dining area and a stunning turquoise pool right in the centre, this place is sure to score you some brownie points with your significant other.
Some of the other great places that have my my recommendation would be Matthew's Beachside Restaurant, Nos Clubhuis & Hadicurari.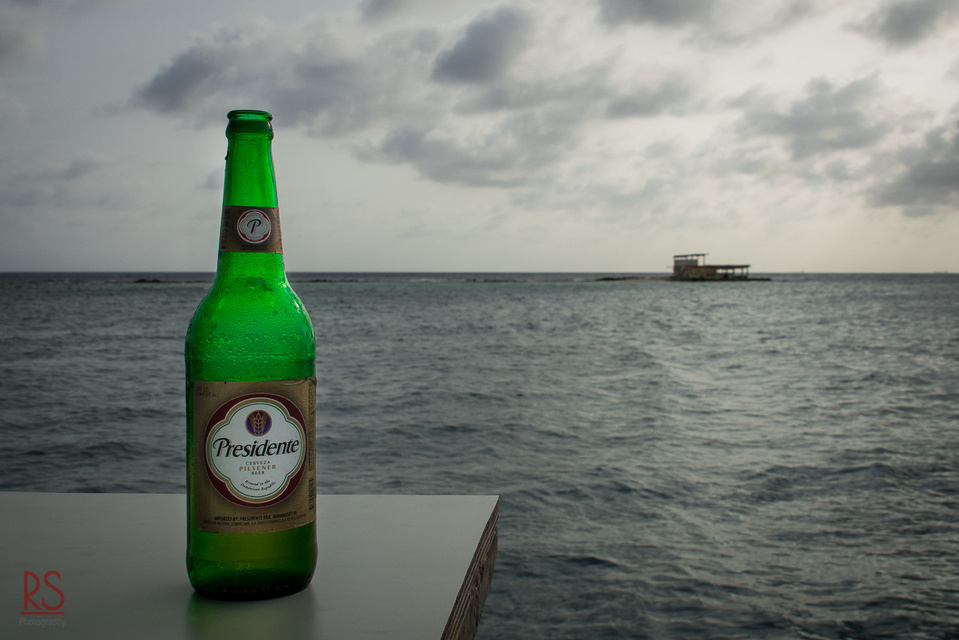 Overall, Aruba is a great island destination that offers enough to not only keep you busy over a long weekend, but also make sure you keep coming back. And although its proximity to the U.S. makes it a popular destination for Americans, its location makes it easily reachable for people from various countries. If you do decide to go to Aruba, I hope you find my recommendations handy.
Happy Travels!